Class of 2034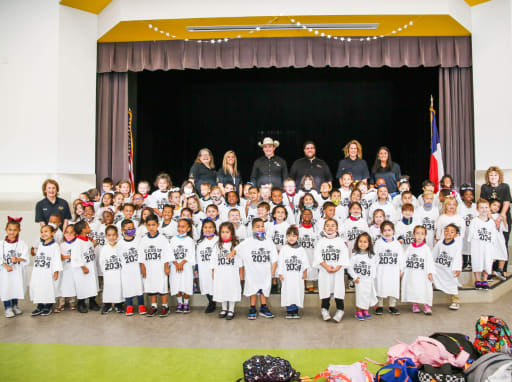 CISD Class of 2034 already primed to grow thanks to district's education foundation
The Crandall ISD Education Foundation partnered with Coby Pritchett and Nate McCrary of Texas Farm Bureau Insurance to provide 400 shirts to kindergarteners of CISD.
CISD Superintendent, Dr. Wendy Eldredge, and members of the Education Foundation Board joined the excitement with students at Noble-Reed Elementary. Joining them were the school's namesakes, Amy Noble and Linda Reed, who taught kindergarten during their tenure in CISD.
"The Education Foundation was excited to do this for our kindergartners," said Kimberly Bramhall, executive director of CEF. "We loved getting to go to campuses and see the kids' faces light up."
Each student received an adult large, which symbolizes that the education foundation grows with them from kindergarten to graduation.